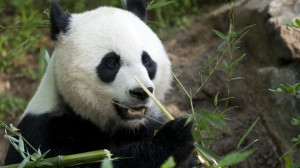 Researchers have discovered a powerful antibiotic in the bloodstream of giant pandas. From The Telegraph:
Scientists have discovered that the animals, of which there are around 1,600 in the wild, produce a powerful antibiotic in their blood stream that kills bacteria and fungi.

They believe the substance could be used to create potent new treatments against drug resistant superbugs and other diseases.

The antibiotic is thought to be released by the bear's immune system to protect them infections when they are living in the wild. Researchers discovered the compound, known as cathelicidin-AM, after analysing the panda's DNA.

…

The Chinese researchers found that the cathelicidin-AM, which is produced by immune cells in the animal's blood, was found to kill bacteria in less than an hour while other well known antibiotics took more than six hours.